Atlanta, GA
So, as thirtysomethings (oh, now that's frightening…) we've been wondering.  For the past several years actually…
Where the heck did everybody our age go!?
By way of explanation – we were living in Alameda ("Where?" *sigh* we mean "The San Francisco Bay Area").  While we were living there for the 6 years before we left on this trip, we eventually became aware of the fact that we mostly had friends that were either younger or older than us.  At first, the absence of our own age group didn't really register.  We were running our own businesses, which is typically something people older than us do and is guaranteed to keep one both busy and distracted from aspects of their social life.  Also, we married pretty young (well, young for our peer group at least) so we'd been out of the singles scene for some time.  Additionally, both of us had become accustomed to not being around people our own age (life as an officer in the military can do that) so it had not really been considered all that odd and starting our own businesses made us somewhat socially isolated as well.  Finally, while spending our time working as sailing crew we often spent time with people who, in their own words "had kids older than us."  (By the way, no matter how you put that, no one likes to hear it.  Thanks to those of you who have refrained.)
So it came as quite a shock to us when we found out that our generation had not been all systematically and quietly exterminated or rounded up for alien abduction / experimentation.  But really guys, it sure would have been nice if someone had dropped us a memo when you all decided to move the freaking clubhouse.
While Greg was in Atlanta with our friends helping out with the kids the older girl gets invited to a birthday party at a local "play place."  Not really sure if that's what you call it – the basic premise is that they have a ridiculous amount of kid's play equipment inside a climate controlled warehouse and you pay for admittance.  We're sure if you have kids you're probably aware of what we're talking about.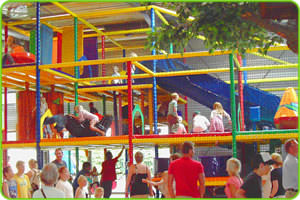 Because this is what has apparently replaced nightclubs and expensive coffee shops as the place where members of our age group now congregate in order to hang out.  Or wherever it was, we're not exactly up on what predated the play areas.  You don't hang around hospital nurseries right?
While off key happy birthday songs were being sung and cake got served served to the kids Greg noticed something odd: the person he was idly chatting with was actually born within 12 months of his own arrival on the planet!  Things like cartoon references and music actually aligned!  Fascinating!  Greg was dumbfounded…he hadn't even noticed what he'd been missing!
It makes sense really.  A lot of you went off and had kids.  We didn't.  We just never thought to change the question from "where do people our age hang out?" to "where do people our age WITH SMALL CHILDREN hang out?"  Because that does fundamentally shift ones recreational options.  It shifts ones travel patterns, buying choices, eating habits, sleeping 'patterns' (snicker) and who knows what else.  Heck our friends own a mini van…a MINI VAN!  And it's actually a logical choice for a vehicle considering the number of people (and equipment) requiring transport.
The minivan, by the way, has become way more awesome since we were kids.  We'll stick with our Amigo & Saturn coupe but still, sweet automatic go-go-Gadget doors, nice seats, GPS, enough secret storage compartments to give our sailor friends some envy,  climate control and installed DVD / CD / MP3 players.  Oh and yes, now Greg finally understands why this last piece is a very useful / nigh essential addition to a vehicle utilized in the long range transport of small children.  "It's like a GameBoy when we were kids" were his exact words.  It's especially cool how you can throw all the volume back behind the driver's area so the driver and shotgun can have a 'grown-ups' conversation under the distraction of Veggie Tales' Silly Songs. (This, of course, assumes Tiffany doesn't prefer the Silly Songs to talking.  She is a fan.)
One of Greg's friends, the wife of one of his high school friends and therefore a decent gamer along with being a proud mother of 2 wonderful kids, said to him the week before he left, "You're so lucky to do this, I wish I could."
To which Greg replied,
"We're both on an adventure, they just have different rewards.  Mine come now.  Tell me you want to change places when we're both 85 and you have someone to visit you in the nursing home."
So since we managed to find you again, dear generational co-members, could someone drop us a hint about where we should be looking for you in a few years?  We mean, it would be odd right, to go to a 4th grade play just to make friends?  That's weird?  So where do we find you freaking people?  Is there a reference guide, or something?
Greg and Tiffany are traveling around the world on sailing yachts and keep a video blog of their (mis)adventures.  If sailing to Tahiti on a 44 ft sailboat, 3-day delays for wine tastings, getting pooped on by seagulls, opening coconuts with dull machetes, sailing past tornadoes and ukulele Christmas carols are for you, then check them out at www.CoastGuardCouple.com!